Bakkt Theater features impressive acoustics, unobstructed views, and one of the largest proscenium arch openings in the United States. In addition, this state-of-the-art venue also features a groundbreaking D&B sound system with more than 100,000 watts of power and one of the largest indoor projection surfaces in the world that covers more than 200 degrees of the audience area. Exclusive VIP tables with bottle service are available to enhance the experience.
Bakkt Theater & Event Tickets      Hotel Reservations
Step into the world of mesmerizing entertainment at the Bakkt Theater, located in the heart of the iconic Planet Hollywood Resort & Casino in Las Vegas, Nevada. With a seating capacity of over 4,500, the Bakkt Theater has become the epicenter of live entertainment on the Vegas Strip, offering an unparalleled experience for both performers and spectators alike. This article will explore the history, design, shows, and unique features that make the Bakkt Theater a must-visit destination for anyone seeking the ultimate entertainment experience.
History
The Bakkt Theater, formerly known as the Zappos Theater, was rebranded in 2022 after its acquisition by Bakkt Holdings, a digital asset management platform. The theater's origins date back to 2000 when it was first built as part of the Aladdin Resort & Casino. Since then, it has undergone multiple renovations and expansions, culminating in its current state as one of the premier entertainment venues in Las Vegas. Throughout its history, the Bakkt Theater has been home to legendary performances by world-renowned artists, including Britney Spears, Jennifer Lopez, Gwen Stefani, and many more.
Design and Architecture
The Bakkt Theater's design is a harmonious blend of modern technology and classic elegance, providing a truly immersive experience for audiences. The theater's interior boasts a circular 270-degree seating arrangement, ensuring that every seat offers an excellent view of the stage. Additionally, the theater is designed with state-of-the-art acoustics and lighting systems, which enhance the overall ambiance and create a dynamic atmosphere for each performance.
The theater's exterior features a stunning LED facade that stretches 130 feet across the Vegas Strip, providing a dazzling display of color and motion. This eye-catching feature has become a symbol of the Bakkt Theater's dedication to delivering cutting-edge entertainment experiences.
Shows and Performances
The Bakkt Theater is renowned for hosting some of the most popular and critically acclaimed shows in Las Vegas. From high-energy pop concerts to theatrical spectacles, the theater offers a diverse array of entertainment options for visitors of all ages and tastes. Some of the most notable shows and performances that have graced the stage at the Bakkt Theater include:
Britney Spears: Piece of Me A groundbreaking residency by pop icon Britney Spears, which ran from 2013 to 2017, featuring her greatest hits and spectacular visuals.
Jennifer Lopez: All I Have Another iconic residency by the multitalented Jennifer Lopez, which showcased her powerful vocals, energetic dance routines, and captivating stage presence.
Gwen Stefani: Just a Girl A high-energy show by the former No Doubt frontwoman, which blended her solo hits and fan-favorite tracks from her time with the band.
Kelly Clarkson: Invincible A powerhouse performance by the first American Idol winner, which featured a mix of her chart-topping hits and powerful ballads.
Shania Twain: Let's Go! A dazzling residency by the queen of country pop, which combined her greatest hits with stunning visuals and elaborate costumes.
The Bakkt Theater continues to attract top-tier talent and maintains a packed schedule of must-see shows and events throughout the year.
Unique Features and Amenities
The Bakkt Theater offers several unique features and amenities that set it apart from other entertainment venues in Las Vegas. These include:
VIP Experience: For an elevated entertainment experience, the Bakkt Theater offers VIP packages that include premium seating, access to the exclusive VIP lounge, and a private entrance. Additionally, VIP ticket holders can enjoy a pre-show reception with hors d'oeuvres, signature cocktails, and a dedicated concierge service.
Merchandise: The Bakkt Theater houses a dedicated merchandise store, which offers an extensive selection of exclusive items related to the various shows and performances. From tour apparel to limited-edition memorabilia, the merchandise store provides fans with a tangible way to remember their experience at the theater.
Dining Options: Located within the Planet Hollywood Resort & Casino, the Bakkt Theater is surrounded by an array of dining options to suit every palate. Visitors can choose from a variety of restaurants, cafes, and bars, including upscale dining establishments, casual eateries, and quick-service options. Additionally, the resort offers a selection of themed dining experiences, such as the popular Gordon Ramsay Burger and the whimsical Café Hollywood.
Accessibility: The Bakkt Theater is committed to providing an enjoyable experience for all guests, including those with disabilities. The theater features accessible seating, restrooms, and parking, as well as assistive listening devices and sign language interpretation services upon request. Guests can also take advantage of the theater's dedicated accessibility host, who is available to address any accessibility-related concerns or requests.
Pre-Show Activities: To enhance the overall entertainment experience, the Bakkt Theater often hosts pre-show activities and interactive experiences for guests. These may include photo opportunities, meet-and-greets with performers, or exclusive previews of upcoming shows. By offering these unique experiences, the theater ensures that guests are fully immersed in the world of entertainment from the moment they arrive.
The Bakkt Theater at Planet Hollywood Vegas has established itself as a premier entertainment destination, offering a diverse array of world-class shows and performances in a luxurious, state-of-the-art setting. With its rich history, innovative design, and commitment to providing an unparalleled entertainment experience, the Bakkt Theater continues to captivate audiences from around the world. Whether you're a Las Vegas regular or a first-time visitor, the Bakkt Theater is a must-see attraction that promises an unforgettable experience for all who pass through its doors.
Bakkt Theater
3667 S Las Vegas Blvd
Las Vegas, NV 89109
(855) 234-7469
Show Schedule, Tickets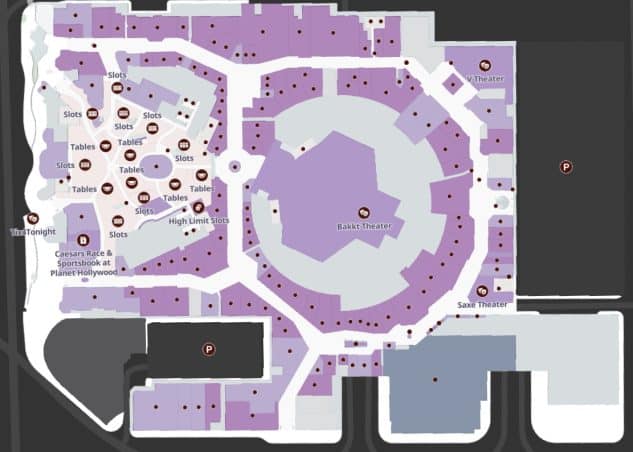 NorthLasVegas.com
The Visitors Guide for North Las Vegas!